noun.

the throwing back by a body or surface of light, heat, or sound without absorbing it; serious thought or consideration.
Reflection… Reflecting on reflection… Reflective practitioners… Reflective practice… Reflective teaching… Reflective leadership…
I have spent this week supporting my tutees from the PGCE I was previously in charge of. I left my salaried leadership role at the university at the end of April but I made a commitment to carry on supporting the individuals I had worked closely with all year. I am working freelance for the university and communicating regularly with my trainees, their mentors and my lead tutor.
It was important as the PGCE course leader to have my hand in and understand the mechanisms of the course. It enabled me to reflect on what was working, what was not working, what was needed and what could be improved. Much like when I taught as a Headteacher is also enabled me to walk the walk as well as talking the talk. I understood the pressures of deadlines and empathised with changing goalposts and the frustration of things being changed mid-year.
I love teaching and I love talking about teaching. I have always loved being a mentor and I have enjoyed being a tutor and acting as a coach for the mentors and their mentees. The tutor visits have kept me anchored in the system and I have enjoyed visiting a range of schools and sitting in lessons, giving feedback and having school dinners!
My cohort of trainees are from very different contexts. Trainee 1 had changed schools and deferred so had an extra term to do, I supported him until Christmas. Trainee 2  had extended due to personal reasons and had two more terms to complete, I supported her until Easter. Both were state secondary trainees in London. Trainee 3
and 4 both work at an international school in The Netherlands, one in primary and one in the middle school so I have been out to visit them twice and reflected lots on the IB programme and Dutch system. Trainee 5 works in an independent primary school in my region. Trainee 6 and 7 both work at the same secondary state school in South London, a school where I know some of their SLT. Trainee 8 returned from maternity leave and just needed to complete the final few tasks, I have not managed to meet her in person.
Eight very different teachers from very different backgrounds working in very different contexts. Trainee teachers working in Primary and Secondary, Independent and State, UK and International. Teachers of Geography, Maths, English, Computing, Music, Sociology, MFL and Science. Each had a very different journey to teaching and a very different experience of training as a teacher, but each had a shared sense of purpose and a shared vision.
As a remote learning course, our PGCE encourages our trainees to become reflective practitioners through a number of different ways:
Reflecting on the reading of theory and how to apply it their own teaching
Reflecting on lessons taught and responding to feedback from the observer
Reflecting on lessons observed and considering how to magpie best practice from peers
Reflecting through dialogue with their mentor in their weekly meetings
Reflecting on how to evidence their progress and record this on their digital portfolio
Reflecting on their tutor visits from me and my feedback on their progress on the course
Reflecting on their termly progress through the writing of reports by the trainee, mentor and tutor
Reflecting on their belief systems, purpose and philosophy of education through their Masters-level assignments
Reflecting on the course's core content through key note presentations to the whole cohort at our termly residentials
Reflecting on their areas of development through their attendance at workshops they can opt for at our residentials
Reflection is a core component of any initial teacher training course and I have loved the process of working with them and teasing their reflections out of them. I have been lucky to have a very conscientious group who have been easy to work with. They are all human sponges and lap up feedback, they listen, they reflect, they assimilate and they improve. The theory our training model is based on is the Kolb Experiential Learning Cycle.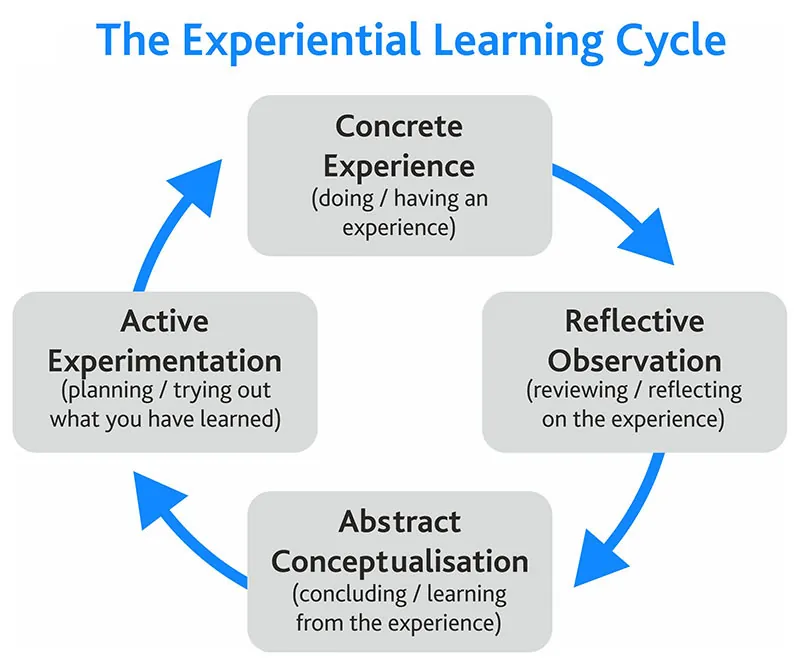 I have witnessed the journeys they have been on and I have seen this cycle be repeated across the teaching standards, repeated with different students and different classes, as they have identified areas for improvement and obstacles they need to overcome. My trainees have been reflective but they have also been tenacious.
Since lockdown I have been holding regular tutor clinics on zoom, an opportunity for them to come together as a group and chat about how they are getting on, a safe space to share how they are feeling and check in with each other. This has been an informal opportunity to reflect on how they are coping.
Their final PGCE residential had to be cancelled, so before I left I organised the remote delivery of sessions to aid their reflection in the final stage of the course. There was core content to still share, but I also had the opportunity to bring in some people from my network to deliver content I knew they would benefit from, including a Motivating Your Students session from Action Jackson, a Looking After Your Wellbeing session from Clare Erasmus and a session on PSHE and Citizenship from Mal Krishsanamy.
The course completion and final tasks have also been tweaked to reflect the changes in delivery style. So this week I have conducted a Viva with each trainee teacher. It has been an absolute privilege to spend an hour on zoom with each trainee capturing their reflections on their progress this year. My trainees are humble and modest, they could all reflect deeply on all of their growth areas, on what didn't work and how they have worked hard to be better teachers for their students, but I have had to push them to be able to articulate their strengths and to celebrate their successes. I have encouraged them to reflect on the impact they have, how they have survived not only working full time, whilst doing a PGCE with Masters credits, but all of this during  a global pandemic. What a year to train to teach?!
I have also reflected this year on what it means to be an effective mentor. My biggest learning point in my year as Head of PGCE was that we do not look after our mentors very well. As a Headteacher I told parents that if I prioritised my staff's wellbeing, then the children's wellbeing would be served. My parallel thinking is that if we invest in our mentors, our mentors invest in our trainees. Alas, from everything I have seen and heard this year, through my reflections on what makes effective mentoring, our school system is doing our mentors a disservice, and we are thus doing our trainees a disservice. You can read my piece on mentoring for #CollectivEd here. Also, look out for a piece that David Gumbrell and I are writing collaboratively on our reflections on the move to remote/ digital mentoring and what this means for the trainee teachers too.